Who is Happy Harold and what does he have to do with HVAC? Well, imagine a hot summer Saturday. You have just had a terribly long week at work and the air conditioning unit gives out. Your spouse is asleep, and the kids are running around like crazy. You just wanted one day to yourself, to relax and enjoy life. Just shout "HAROLD!"
It could also be a cold winter night, and you're having a furnace emergency at the worst possible time. Shout "HAROLD." The Boiler gives out, shout "HAROLD." You want to understand more and compare different types of water heaters. Shout, or maybe just say nicely, "Harold." I think you see my point.
The thing is Harold will come to your rescue when you him, and Harold leads the "High Performance Heating & Cooling" Team.
Not only do we offer you the best expertise on boilers for the region, but we help answer any questions you might have regarding HVAC; to help you come up with the best decision regarding what you may need. Just tweet your questions to @HighPerHVAC or call us at (585) 3-HAROLD.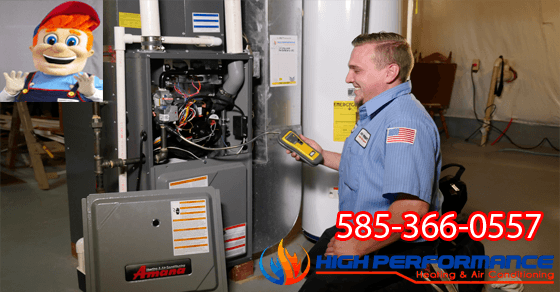 Remember, the next time your furnace needs repaired, your air conditioner needs replacing, or your questions need answering, Call HAROLD, and the High Performance Team will be there to help.
For more information, and our latest discounts visit www.happyharoldheating.com