Staying comfortable year round
A sunroom is a great addition to any home giving you a place to enjoy the sunshine and landscape without being subject to harsh weather. The temperature in these rooms, however, isn't always easily controlled. Given that sunrooms aren't normally linked to your homes central heating and cooling system, it is necessary you have a plan for temperature control.
Mini Split for the Win!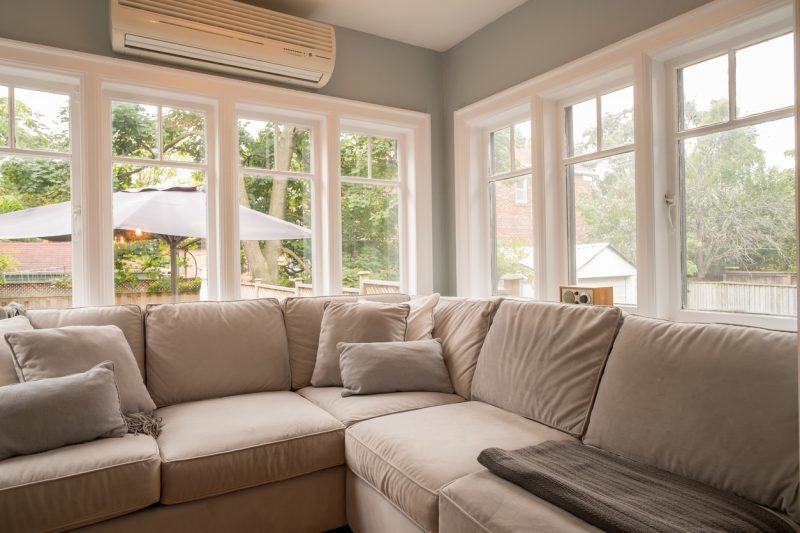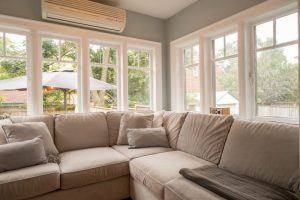 In our opinion the best way to combat adverse temperatures in your sunroom would be with a mini split unit. A mini split system is one where you can control the temperature in individual rooms. Thus giving you the versatility you need to set the temperature of your room to your liking. A system like this has two main components, an outdoor compressor and an indoor air-handler, and installation is a breeze! Another benefit to mini split systems is that, unlike central air and your furnace, you can shut off the air to unused rooms without causing your system to overwork its self. Mini split systems are quiet, and blend well into any room of your home. Wondering what it would cost you to have a mini split system put in? Harold's free estimate service is just a phone call (or webform) away!
Small Change = Big Impact
Airflow is key!
Air flow through the sunroom will relieve heat, so having ventilation openings high in the room will help it escape. You may also want to place fans near the floor, this ensures hot air pockets do not linger in your room.
Window tints
At certain points in the day the light will be quite intense beaming through the windows. You can combat this with window tints! Window tint will provide additional shade keeping your room cool. While also providing privacy and protection for your furniture from sun fade.
Blinds
Window dressings, such as honeycomb shades add an extra layer of insulation to keep your sunroom warm in the winter and cool in the summer. These shades are considered energy efficient and provide superior light control.
Weather Stripping
Weatherstripping your sunroom will help reduce drafts, and block energy loss through windows and doors. Weatherstripping can also aid in energy savings, you may just want to do all of your homes windows!
585-3Harold